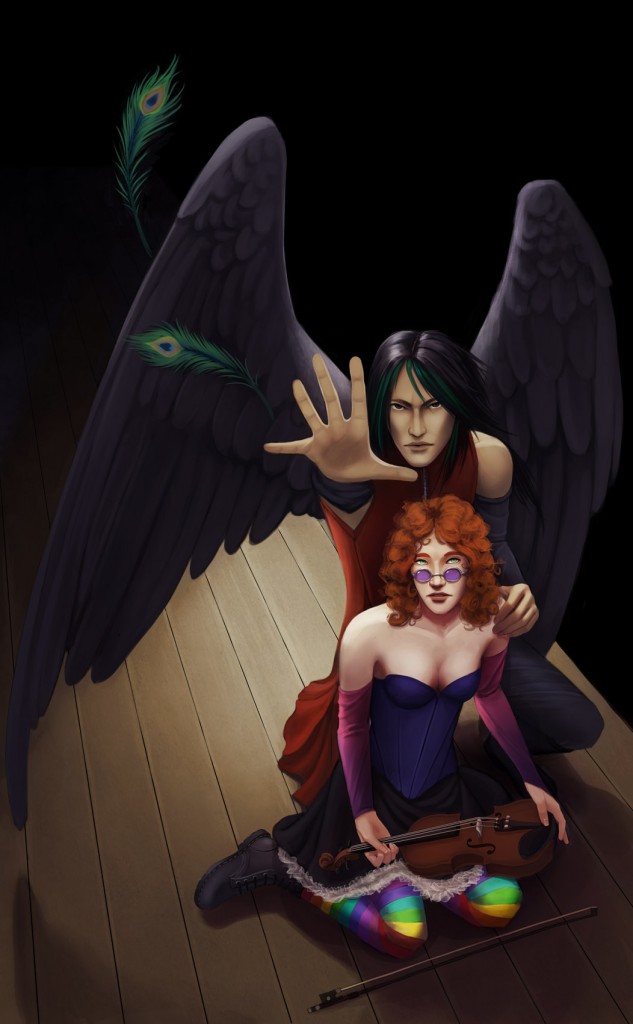 Since Carniepunk is coming out in a few months (July 23rd!), I decided to have Darchala draw me out a lovely scene from my story, A Duet with Darkness.
(It's not an exact match as far as the story goes, but it's freaking awesome and I love it. So there.  Plus Dar got the livestream working and I was able to watch her work.)
We wavered a bit on a title and finally decided on "Pride and a Fall" – though the working title was "No More Pride, Little Bird"  – honestly I couldn't decide between the two.
But we've got Melanie there with the red hair and the rainbow socks…and her sin-eater fallen angel paramour Nobu.
*sighs*
I may look at turning it into a print if there's interest.
Also, it looks like Carniepunk is going to be released in audiobook format as well. This tickles me silly, though I'm not sure I'll be able to listen to it without giggling. My words or not, I have a hard time hearing them in other voices than my own. But we'll see how it turns out – more details on that when I know them.
Some details of the image below. 🙂