Other places you can find me on the web:
DeviantART – my lousy Poser art. 🙂
Petals & Thorns – My gaming forum, up since about 2005! I got my start writing here for some PbP games.
My Rubberslug Gallery – Hasn't been updated for a while, but I collect Japanese anime cels when I get the chance. (Bit of an expensive hobby, though.)
Ion's Folly – My tumblr blog. It's not always SFW and is basically just a place for me to fangirl over gaming stuff and other assorted weirdness without clogging up my official blogs.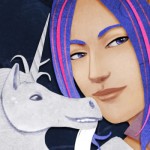 Phineas has his own Twitter account! Follow the little pain in the ass here! –> @Phintheunicorn (Note: He may not always be SFW.)
New! A Day in the Life of Phin!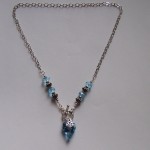 New! Brystion gets his cards read over at Tarot by Arwen!
New! A Brush of Darkness jewelry line, created by Cemetery Cat Designs!
New! Heart of the Dreaming online store! Wear Phin on a T-shirt! More designs coming soon!!
New! Abby and Phin pack for RT!
New! The "Lost" Brush of Darkness scene!
New! Trading cards are here!
New! Scene Sketchcards by Aimo!
Note: The art page has moved to here.