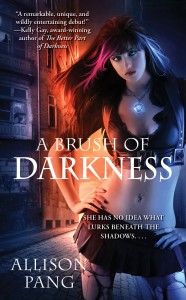 Hey, so in a nice bit of happenstance, today is the 10th anniversary of the publication of A Brush of Darkness! (I know, I know – it's crazy to think it's been that long – this year in particular has been downright glacial.)
BoD was my first real foray into writing with the intent of publication. It started out life as a PNR, won a few romance contests, which led to an offer of publication, which led to an agent, which led to a bigger offer of publication…it was fast and crazy and I was so grateful for the support I got from so many writer friends at the time.
(And so many fans as well – everything from art to jewelry to Hello Kitty shout-outs – it really was so amazing.)
There's always something special about the memories of that first book – subsequent releases are still fun, but that first one is sort of like being a Velveteen Rabbit. Suddenly you're "real" – and even though I suspect most of us creatives continue to suffer from imposter syndrome no matter how many things we make, for that one instant, you feel pretty damn good.
Part of my journey with this book and series was made with my dear friend and editor, Danielle Poiesz. She was my editor at Pocket Books – she helped me whip things into shape and has done nothing since then but help me create better stories. She is now the freelance editor/owner of Double Vision Editorial and I continue to work with her for nearly every project I have. To have that sort of professional working relationship is a true blessing and I am ridiculously grateful that I have her. (Also, go HIRE HER – she's worth every penny!)
Recently Danielle started a side business on Etsy called Inner Peas Co. She makes soaps and bath salts and all sorts of deliciously scented things with great literary puns for n
ames. And last week she surprised me with a set just for the Abby Sinclair series. It's called Be Still My Dreaming Heart and they smell amazing! (I've been using the bath salts and the scrub like crazy – they really are great.)
So that in mind, if you'd like to get a feel for what the Dreaming Heart smells like, this is definitely the set for you. (Jasmine, among other things…)
And because this is a new year and all, I'd like to give a way an entire set to a lucky reader. (Soap, shower steamer, bath salts and scrub).
So please leave a comment below telling me your favorite scene from any of the Abby Sinclair books! I'll keep this open until Feb 2!
(Please note: because the Pandemic postal service is a hot mess right now, this is only open to US/Canada. My apologies.)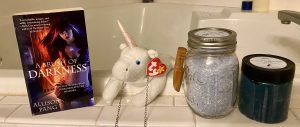 EDIT: I don't know why my comments aren't showing, but I did get them! Winner is Barbie Atkins!!! 😀