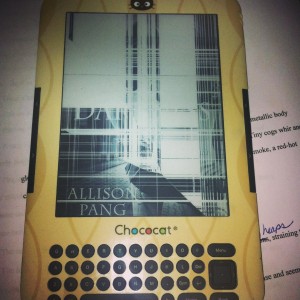 So it occurs to me that I've been rather lax in updating my website with a few key things.
First off – I'm over at SF Signal's Mind Meld today, weighing in about Faerie (along with several other fabulous authors, including Seanan McGuire and Julie Kagawa) – so go check it out!
Also, if I haven't mentioned it before, I've got a set of signed Abby Sinclair books (and trading cards) up for auction at the Brenda Novak Online Auction for Diabetes, so if you are interested in donating to a great cause, please check that out as well.
And the hard copy version of Womanthology Space is available for pre-
order too – if you were unable to get a copy of Issue #5 and wanted to read my story, The Wind in Her Hair – you can find it here.
So I guess the only thing left to talk about is the broken Kindle up there.
Which in a frustrating bit of irony, decided to fizzle out yesterday, just as I was attempting to download some of the books I'd pre-ordered a few months ago. (I do so love Tuesday.)
It's several years old and past its warranty, so I ran out to Best Buy to take a look at some of the newer models. I don't mind plunking down to buy a new one since I do use it so much, but although I'm not interested in the Kindle Fire, I did want to check out the Paperwhite.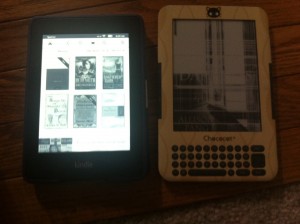 As you can see, I ended up buying one. There's obviously a size difference, but the thing I wanted to see what 1) the backlighting was like – I'm not fond of reading books off a backlit device, particularly at night, but I have to admit that the Paperwhite was a pretty pleasant surprise and not obnoxious at all.  (Gave it a trial run in bed last night and it worked very well.)
and 2) No buttons. I've become rather fond of the old Kindle's side buttons to flip pages. The Paperwhite uses a swipe or finger tap to move forward and back, but I discovered I can use the thumb of my holding hand to do it easily enough, so it's pretty much a win-win either way.
I don't read as much when I'm in the middle of writing, but now that the pesky rough draft is over, I'm allowing myself a little down time – my TBR pile is ever larger and I really need to make a dent.