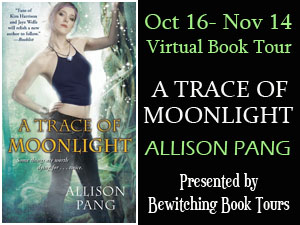 Okay – the Trace of Moonlight blog tour has officially begun. 😀
So this means in general, I'll be posting up links every day to reviews, promo, guest blogs and interviews – check them out for a chance to win one of ten copies of A Trace of Moonlight.
So first off – today there's an interview today over at Preternatura, and a review over at Place of Reads. 😀
Additional business of interest? Word Whores is about to have an opening for another blogger, so we are looking for someone to fill the Monday slot – I've got feelers out to some people, though it's a group decision between me and the other members. However, if you're interested and know you can come up with a weekly post (on a chosen topic), drop me a line.