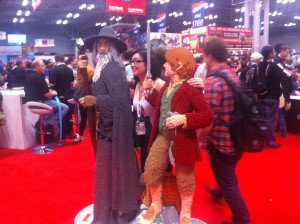 Clearly I didn't post much the last few days – not even twitter or tumblr. Part of that was just time (and lousy signal)…and also just being so tired I couldn't make the effort.
(No, I don't know who photobombed Gandalf there, but I gave up trying to get pictures without people. And lego people rock.)
Not that the con wasn't fun – it was, but I think it was a tad too crowded for my tastes overall. (And right now I'm pretty grumpy – lack of sleep and just plain travel fatigue will do that to a person.) Most of my pictures came out blurry (of course) so I don't actually have much to show, but as far as recaps go:
Thursday afternoon, I got in late in the afternoon, met with my agent and toured the agency office and then headed down to the Javits center with Emma Vieceli. Eventually we took off and had dinner with the awesome Becky Cloonan and Ming Doyl (among other artists who I didn't quite catch the names of. >_<)
And then I was stalked by some guy for several blocks as I walked back to my hotel room by myself.  *cough* Yay, NYC!
Friday I just bummed around  the showroom floor trying to take it all in. I bought a giant stuffed narwhal, because why wouldn't I?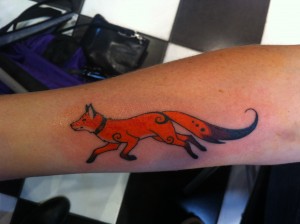 Squeezed in lunch with my editor and my agent and then later on took off with some friends to Max Brenner for more delicious food. And then went out for drinks with Marcus Wolf (pictures to come tomorrow) and a trip to a certain sort of parlor with Danielle. >_<   (Sorry, Dad.)
Saturday was my panel – I got to meet Kevin Hearne, Faith Hunter, and F. Paul Wilson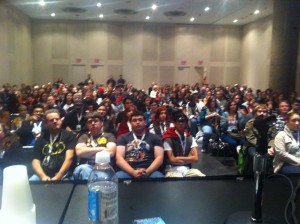 (who is just an amazing person, btw – super nice!). The panel was taped and will be aired on XM radio sometime later this month, so I'll get that posted when I know more. (It was completely full and standing room only, as you can see from the pic here, so that was crazy amazing. Plus I had a fan come all the way from Toronto and buy a ticket from Craig's List for Saturday just to meet me – how awesome is that?? *waves to Barbra Lica*  – go check out her jazz album!)
After the signing, I was pretty much just…done and headed back to the hotel to meet Danielle and some friends for a really awesome dinner at Il Bastardo. After a crazy day of nearly being trampled on more times than I care to count, it was a major relief to just sit in relative quiet. (And sleep in on Sunday!)
And that was pretty much that. I got some writing in, though I've got some blog posts to do still – tomorrow is the start of the Trace of Moonlight blog tour, so I'm going to be posting things like mad. 🙂
And new Fox & Willow up today, so don't forget that!