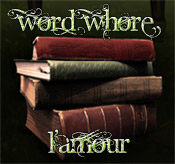 This is most likely my last post for the next week or so – heading out for vacation tomorrow and my internet will be fairly spotty.
Sort of a shame since I really want to write up a post on the new Brave movie and some of the really asinine reactions about it, but that's probably going to have to wait until I get back to be posted.
In the meantime, I may post some beach pictures if I can, but to be honest, I'm hoping to just remove myself from all things electronic for a bit. (Save email. I'll have my iPad, so it's not like I won't have *any* connections to the outside world, but the last thing I want to do is blog. Though there will probably be some writing going on – deadlines remain, after all.)
In the meantime, I'm over at Word Whores today – this week's theme is about quitting the day job as a writer. If it can be done. If it's worth it. The issues we face if we attempt to do so. I strongly suggest taking a look at everyone's posts – there's some really great stuff in there.
Also, Fox & Willow updates today. Obviously I probably won't be announcing next week's pages here, but they're already scheduled and ready to go, so remember to check them out.
And as a added bonus, we've got a sped up video of Aimo working her inking magic of today's page – definitely fun to watch! 🙂
If I don't post here again until next week, well, I'll see you then! 😀