It's been a long couple of months and the holidays are almost here so I'm doing a little celebrating of my own with a blog tour!
Aside from some interviews and guest blogs for the next few weeks, there are also two chances to win a signed copy of  A Symphony of Starlight! (open worldwide!) Visit the participating blogs listed below for the RaffleCopter links and requirements!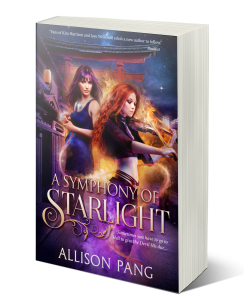 As a bonus, I've also dropped the ebook price to .99 for the next week or so, so if you were looking for a gift for yourself or someone else, now is the time to jump on it!
Blog Tour schedule as follows:
December 16 The Creatively Green Write at Home Mom (Guest Blog)
http://creativelygreen.blogspot.com/
December 16 ilovebooksandstuffblog
https://ilovebooksandstuffblog.wordpress.com/
December 16 JB's Bookworms with Brandy Mulder
https://jbbookworms.blogspot.com
December 17 Simply Kelina
http://simplykelina.blogspot.com
December 17 Fang-tastic Books (Guest Blog)
http://fang-tasticbooks.blogspot.com
December 17 Rising Indies United
https://risingindiesunited.blogspot.com/
December 18 Paranormalists
https://paranormalists.blogspot.com/
December 18 Supernatural Central (Interview)
http://supernaturalcentral.blogspot.com
December 19 Boundless Book Reviews
http://www.boundlessbookreviews.com
December 19 Roxanne's Realm
http://www.roxannerhoads.com/
December 20 Gimme The Scoop Reviews (Reviews)
https://gimmethescoopreviews.blogspot.com/
December 20 Lisa's World of Books
http://www.lisasworldofbooks.net/
December 23 The Book Junkie Reads (Interview)
https://thebookjunkiereadspromos.blogspot.com/
December 23 I Smell Sheep (Guest Blog)
http://www.ismellsheep.com/
December 24 3 Partners in Shopping, Nana, Mommy, and Sissy, Too!
http://3partnersinshopping.blogspot.com
December 25 Christmas
December 26 Momma Says: To Read or Not to Read
http://mommasaystoreadornottoread.blogspot.com/
December 26 Jazzy Book Reviews
http://bookreviewsbyjasmine.blogspot.com/
December 27 Sapphyria's Books
https://saphsbooks.blogspot.com/
December 27 Books 4 Book Nerds
https://booknerdbooks.wordpress.com
December 27 Liberty's Literary Loves
http://www.libertysliteraryloves.com/
December 30 Between Dreams and Reality (Review)
http://www.betweendandr.com
December 30 T's Stuff (Interview)
http://www.tsstuff.net