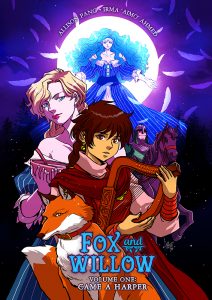 *waves*
Hi everyone. Remember me? Yes, I'm still here and kicking around. Life has been…crazy since the last time I blogged.
Between the pandemic, having my kids stuck at home, having to send my exchange student back to Japan, trying to write, needing my esophagus dilated, having an ovarian cyst rupture and kill my remaining ovary and sending me straight into menopause…well. It's been a time.
Like everyone else, I imagine
Radio silence isn't ideal, I realize, but I've just been caught up in the usual whirlwind, which has been complicated by bouts of depression and trying to just keep up with the news in the world as it changes hour by hour.
That being said, things have been moving behind the scenes a bit. If you read my post from November or so, you might remember how Fox & Willow's publication debut was basically dropped due to some major wtfkery – however – we were then acquired by Outland Entertainment and they're going to get our little fairy tale comic onto bookstore shelves!
To that end, we have an upcoming Kickstarter next week to help with the initial print costs – I'll be posting a link soon! I'm really so very excited by this – Aimo and I have been working on this comic since 2012 and this is definitely a nice step forward. I can't wait for you guys to see it!