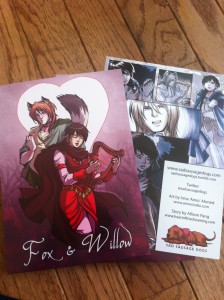 Just wanted to give a shout out to Robin over at Robin Ludwig Design for the lovely postcards she helped design. 🙂
I've been wanted to create a little F&W swag for a while now and these larger sized 5 x 7 postcards are just beautiful.  (Look for them at AAD next week!!!)
I also want to thank Robin for her help with the photobooth design as well (explained in the last blog post). Haven't gotten those yet, but I can't wait  to see them when they get in.
For all the talk of whether swag works or not, it really helps to have pros in your corner making it look the best that it can.
And of course, new Fox & Willow up today, as per usual.