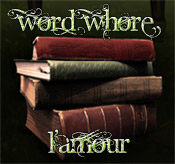 Guess I missed blogging yesterday. See the post before this about crashing and burning and all that. I don't like blogging when I'm cranky – I tend to rant, and that's never good. So some days it's just better to not do it.
Anyway – I'm over at Word-Whores today, talking a little bit about swag (hopefully I'll have some new stuff to show you guys in a few weeks – F&W swag for one…plus something fun and Abby related.)
And of course, Fox & Willow updates today – harping, ahoy!