Welcome to my official blog post for the Mistletoe Madness Blog Hop!
Be sure to visit all the the bloggers on the hop via the link above for a chance to win some great prizes, as well as a chance at the grand prize – a Nook, pre-loaded with books! (Including a copy of A Brush of Darkness!)
Now…what am I giving away?
A lovely bunch of swag, including signed cover flats, trading cards, bookmarks, a limited edition Brush of Darkness Christmas card…and a stuffed hedgehog.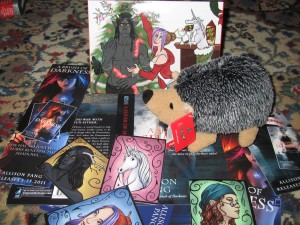 Why a hedgehog? Because I own one…and as you can see, she is the source of all my writing muse, from her prickly outside to her squishy inside to her little chocolate chip nose.  Like my brain, she tends to run all night even when I'd prefer her to sleep.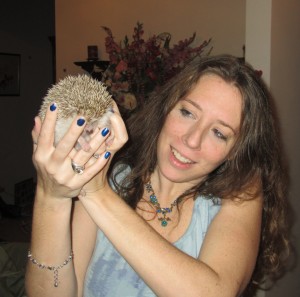 All you need to do to enter is leave a comment telling me what you'd do with a hedgehog if you had one…by way of Haiku.
I put Tumbleweed in a sled. As you can see, she wasn't too pleased.
Or…by way of Haiku:
A hedgehog puffs up
Into a sad little ball 
No Christmas cheer here.
Anyway – the contest opens up on the 16th  – and that's when I'll open up the comments for your lovely haiku entries. Winner will be picked at random (quite possibly by hedgehog). My contest is open for international entries (although the grand prize is not, as the Nook will not work outside of the US.)
Comments are now open! 🙂 You can enter as many times as you like!
Go visit all the other fab authors and their giveaways here!
Link to the Nook giveaway here!
Comments are now officially closed!