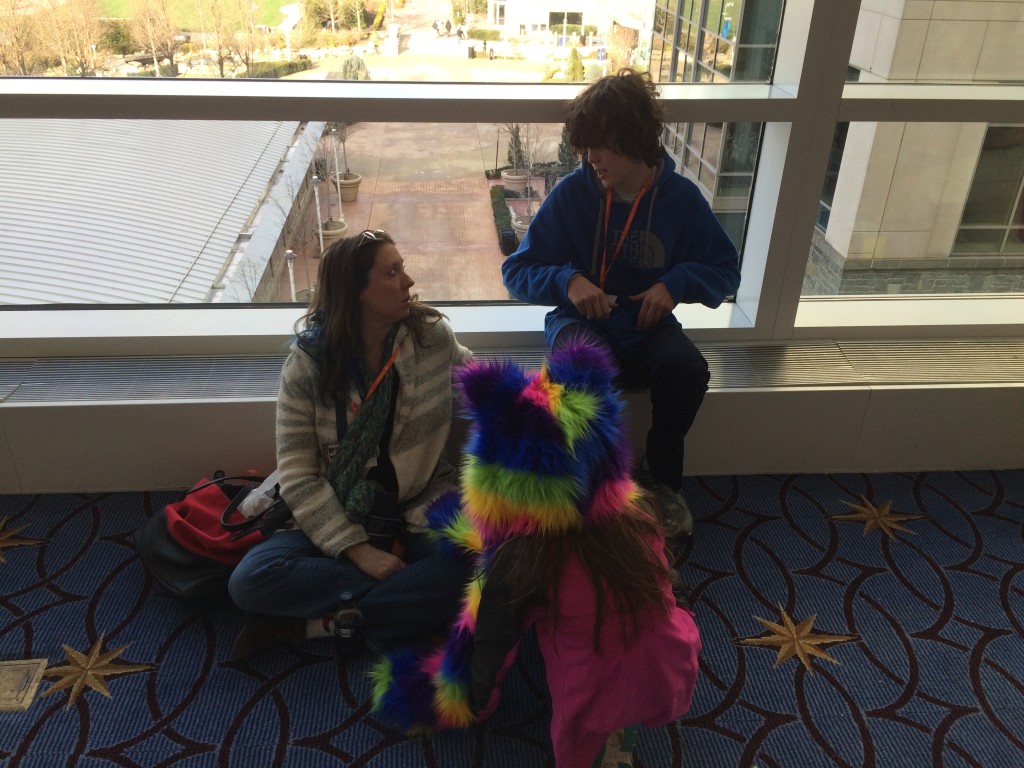 I had the opportunity to attend part of Katsucon this Saturday.
Yes, that's Lucy in a fuzzy rainbow bear hat with paws thing. It is amazing.
(Connor doesn't dress up, but he still has fun.)
To be honest, I'm not much for Valentine's Day as a holiday anyway, and instead of spending money on a fancy dinner, I'd much rather hit an anime convention with the family.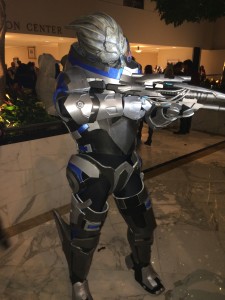 So off we went. Last year, it was a last minute thing, and we bought the tickets same day, which meant waiting in line for over 3 hours to get badges, so I pre-ordered this time around. More expensive since I had to buy all 3 days for 4 people, but from a pain perspective, I wasn't going to be able to handle that much standing so it was worth the extra cost.
For the most part it was overall just a nice day – the usual dealer's hall and artist alley shenanigans that tend to make my wallet cry. Panels on everything from Ninjas to Space Dandy to the new Robotech movie. (Which was an odd panel, since they really couldn't give us any details on anything other than to say it was happening?)
Dinner at an upscale burger joint.
Standing outside in the freezing cold for over an hour because the hotel caught on fire…
Yeah, that happened. I'm not entirely sure as to the exact details, but during one of the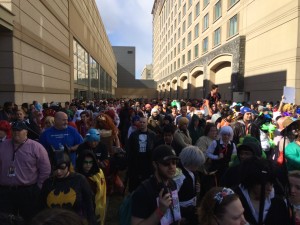 panels someone came in and said they were evacuating the building, but didn't say why. I wish they had mentioned the fire thing up front, because in this day and age evacuation could have meant everything from a bomb threat to an active shooter. (Lucy and I were in a different panel than Dan & Connor, so she was very upset that we couldn't find them right away.)
Plus, it was god damned cold. We had no
coats since they'd been checked, and with the wind chill it was well below 0 F. (I felt worse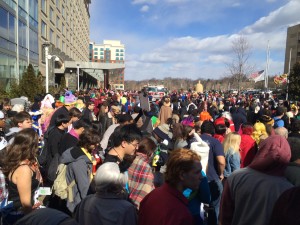 for the cosplayers, especially the ones without shirts or in really skimpy costumes. The hotel actually brought out blankets for them. We eventually found our way back to the parking garage and sat in our running car until things settled down.
An ambulance did take someone away – I heard rumors that the kitchen caught on fire, or it was something to do with the Maid Cafe, but luckily it wasn't enough to cause everything to shut down.
At any rate, I did manage to hit up a few webcomic panels, but they were a bit disappointing – mainly because I was really hoping to get some decent information about how to monetize better, or I don't know – get a better feel for how the "pros" do it. But what I got was 1) conflicting information -e.g. YOU MUST DO THIS vs DON'T EVER DO
THIS and 2) the vague realization we're all just muddling our way through it a la I hear some people are doing well with <insert one> "Tapastic" "Smack Jeeves" "Patreon")
Part of my disappointment was the fact that even the one panel that was supposed to be more advanced got pulled down to  a"How to start a webcomic"  level once the panelist polled us to see how many of us were already running webcomics. Total? Two. Me and someone else who left partway through.
Sadly, I got more information talking to a webcomic artist in the artist alley after buying some of her printed comics than I did from the panels, but that's just how it is sometimes.
The rest of the day was quite fabulous, however.  I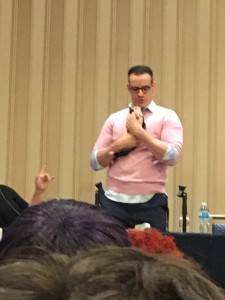 did top things off by hitting an interesting 18+ panel (sans kids, of course) involving voice actor J. Michael Tatum (Black Butler, Ouran High School Host Club, a million other animes and games, etc.) answering (and asking) some rather depraved questions from/to the audience.
Audience members could ask questions, but you had to go up to the front and introduce yourself first – and then he flipped a coin. If you lost the toss, HE (and/or his friends at the table) got to ask *you* a question.
And much hilarity ensued.
(He is holding a French Bulldog puppy here, which was terribly cute.)
Here's a little mini gallery of some of the more fun things: