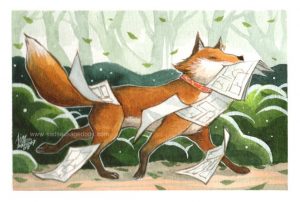 So the Fox & Willow Kickstarter is 70% funded! Huzzah! Thank you all so much! 😀
We have about 13 days left, so I'm popping in for another plug to pledge or spread the word  – anything you can do to help would be brilliant.
For those of you who have been keeping up to date with our comic on Tapas or Webtoons or even the main SSD site – we've obviously been on hiatus for several months to work on this Kickstarter, but we will be updating pages this week. (Patreon got the updates this morning, whee!)
Also, Aimo and I were working on another Kickstarter-funded project  – a comic anthology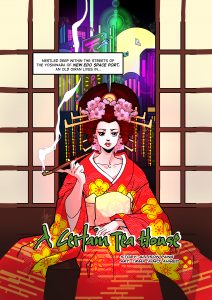 – The Gothic Tales of Haunted Futures, and we had about 10 pages of full color to work through, between the scripting and the lettering and lovely art and all that jazz, so we were focused on that particular bit of work for several months. (Here's a sneak peek at the first page – the story is called A Certain Tea House…)
The Kickstarter for this one is over, but it should be available to purchase once it hits print  – I think October of this year. 😀
Looking forward to seeing both of these beauties in print in the next few months!