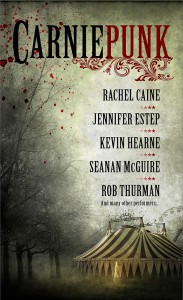 It's here!
Carniepunk is officially out today – so here's your chance to finally fine out whats going on with Melanie and how she got her magic violin! 🙂 (And read a ton of other fantastic stories by some of the best UF authors in the business, of course.)
It's been a long ride getting this book out to the readers – several years in the making, in fact – and I'm so grateful that it's finally here and happening.
That being said, I've got a copy in my hands to give away to some lucky duck – so if you'd like a chance to win, leave a comment down below and tell me what's your favorite carnival/theme park ride.  (I'm partial to the Scrambler, incidentally.)
Open until Wednesday at midnight, EDT. International entries are fine. 🙂
Normally, the random winner would be chosen via hedgehog, but seeing as my Tumbleweed is no longer with us, it's going to be plucked out of a hat via 6 year old.
Good luck!