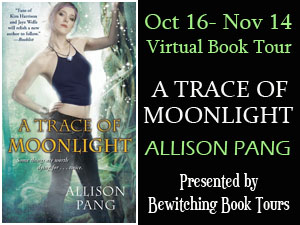 Okay guys – I've been getting emails like crazy about review copies and interviews, etc. for A Trace of Moonlight, so I'm happy to announce the sign-up for the blog tour is now live. Head over to Betwitching Book Tours to sign up. 🙂   (The actual blog tour will be from October 16th – November 14th.)
Please note, I'm going to be doing less guest posts this time around – between NYCC and WFC within a two-week time span of each other (and heading to WFC the day after  A Trace of Moonlight releases) I'm going to be crazy busy. 🙂
Incidentally, if you want to help spread the word about A Trace of Moonlight's release date, feel free to grab the countdown widget on the right sidebar and put it on your own sites. Here's the code:
<script type="text/javascript" src="https://cdn.widgetserver.com/syndication/subscriber/InsertWidget.js"></script><script type="text/javascript">if (WIDGETBOX) WIDGETBOX.renderWidget('f4027892-24d9-43b5-810e-f15ddab1b1b0');</script>
<noscript>Get the <a href="https://www.widgetbox.com/i/f4027892-24d9-43b5-810e-f15ddab1b1b0″>Countdown Creator Pro</a> widget and many other <a href="https://www.widgetbox.com/">great free widgets</a> at <a href="https://www.widgetbox.com">Widgetbox</a>! Not seeing a widget? (<a href="https://support.widgetbox.com/">More info</a>)</noscript>
Apologies for not blogging yesterday – things exploded at work and it just got too crazy, though I did want to mention the new Fox & Willow page was uploaded, so go check that out.
Edited to add: And apologies if you got multiple RSS feed links – apparently permalinks were busted and my blog posts couldn't be reached. Took me a few minutes to figure that out. Le sigh.