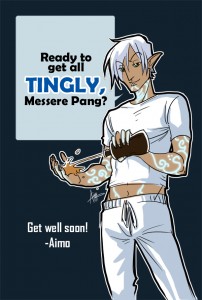 I hate the fact that I didn't blog but once last week.
There are a number of reasons for this. New job stuff has left my brain a pile of mush for much of the time, and while it's good stuff that I'm learning, I am running out of energy at the end of the day to do much more than attempt to recover enough to get some writing done.  And the writing needs to come first right now. 78k in…and no end in sight. >_<
(Yes, I'm reposting an image Aimo drew for me last year when I was hurting. No, I wouldn't turn down a Fenris oil massage right now. At all. It's just one of those sorts of days.)
I find the lack of blogging irritating though, since for several years I've managed to blog every day about *something* – even if it's not the hot topic of the day. (Which is a bit by personal preference, most of the time. I have plenty of opinions, but there are many other sites out there that tackle these things much better than I could. And honestly, I'm just so tired some days that I just…can't.)
Back issues continue to hold steady. I'm off to get another opinion from a new surgeon in a week or so, so we'll see what he has to stay about the fusion. I'm also waiting on some blood tests to make sure I don't have some sort of auto-immune thing going on (RA/lupus/zombie plague). I really hope I don't, but docs wonder why I'm hurting as much as I am and why I'm so tired all the time. Signs are possible there's something else at work, which would complicate things, but I'll wait and see what the results are before I start worrying too much about it.  It is what it is.
In the meantime, catching up from a few things from last week…
Word-Whores is looking for a new blogger! Carolyn Crane is leaving the blog for bigger and better things, so we've got a space to fill. If you think you might be interested in the job, check out the post here and fill out an application. (You do NOT have to be published – just writing seriously.)
Otherwise, Fox & Willow has been updated today (story climax is coming…huzzah! 95 freaking pages and we've been working on this thing for nearly a year now. It's crazy!)
And hey, turns out Womanthology Space is going to be put in hardcover – that will be out in
June, so if you couldn't get a copy of the Issue 5, you can get it in this book. 🙂