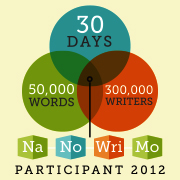 Lots of links and catching up to do today, so let me get started.  First of all, I am going to do NaNoWriMo this year! I've done it before, but the last few years I was right in the middle of a deadline and couldn't spare the time, but this year it falls inside a perfect window. I'm working on a new project and I figure it would be a great way to get my ass in gear. If you're interested in adding me a a writing buddy – I go by mynfel, so feel free to add me. 🙂
(And I'd love to set up some sort of virtual write-in a few times over the month, so let me know if that's something you'd like to be part of.)
As a follow up to Friday's bullying post – I admit I wasn't sure if I should post it. After all, sometimes it feels like whining. As shitty as things were at times, I was also pretty lucky, comparatively speaking. There's always going to be someone worse off than you, but it doesn't invalidate your feelings either. It just becomes a fine line of letting it be a part of your past without allowing it to define you *too* much. Some of us are clearly pretty broken as a result of the things we went through, but we're all broken together, right? On an interesting and timely notes? This article on ABCNews that indicates that bullies often suffer from mental disorders. Doesn't make me feel any sympathy for the bullies, though, and I really hope it doesn't becomes some sort of excuse. "Oh, Billy can't help being a raging douchcanoe…he's got a Bullying Disorder."  *eyeroll*
Anyway – Blog Tour links as follows:
Interview over at SheWolfReads
Interview over at Urban Girl Reader
Promo at Bitten By Love Reviews
Also, in the news of awesomesauce, A Trace of Moonlight was chosen as a Sci Fi/Fantasy mass market paperback of note by the Library Journal!
In con news – this upcoming Saturday, I'm doing a live on-line chat with some of my fellow word-whores (Jeffe Kennedy, Carolyn Crane and Laura Bickle) over at Coyote Con. It's at 2:30, and the panel name is: The Good, The Bad, The Girly & The Manly – so go check that out!
Otherwise, new Fox &  Willow is up today…and I think that's about it. *whew*