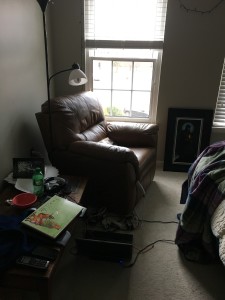 So first, Happy New Year and all that – though to be honest with the oddly warm weather we've been having I can't say it's felt much like winter, let alone the holidays. I know we don't always get snow in Virginia for Christmas, but I've been ready to go into hibernation mode for weeks now…and instead I'm wearing shorts. It's messing with my head a bit.
But in all the usual holiday chaos (which is still going on in the form of constant movies, video games, family, cooking and what-have-you) I've retreated to the spare bedroom to get anything done – for a number reasons. First, I've got a real craving for natural light recently and the setup here is good for that. More importantly is the chair which can recline. Not sure what's going on with the back these days but I'm having a lot of trouble sitting in regular straight-back chairs. I've had a couple of x-rays that I'm waiting on results for, though I suspect I will need another mri soon – my *hope* is that this is all residual fall out from wearing that boot from my stress fracture and that it will eventually subside. I was lopsided for a couple of months, and my right side was taking the brunt of that. I can deal with the hyper-extended right knee – but the fact that I'm getting lumbar pain in a place where I no longer have discs really bothers me. Chiro thinks I may be rejecting the hardware from my fusion (or something has come loose). If that's the case, they will have to come out which means another surgery and I honestly don't know if I can manage another one right now. (Yes, if that does occur I will get multiple opinions on what to do, but still. Three weeks before I can see my pain management doc to figure out what my options are…and I'm now allergic to Percocet and Nucynta so I'm running out of ways to get any sort of relief.)
Anyway. I'm not fond of reflecting on this stuff but I know I've been really quiet for a long time. Obviously pain and surgeries and health reasons are a big part of that. I don't like coming online to complain about how shitty things are but it *is* a huge part of my daily life, so no point in hiding it.
In the meantime, I do have a couple of short stories coming out this upcoming year in various anthologies and whatnot – more details on that as I know them. Waiting to hear back from at least one magazine that's been sitting on a sub for several months (it's been hanging in limbo in that "In-Progress" status so I know they're looking at it, but waiting is never fun.)
Writing-wise – it's been a rather frustrating run on that front. I've got a book that I've been working on for a while. Been on sub. Been rejected. Thought I had a deal for publishing Fox & Willow but it fell through. My agent and I parted ways in the Fall due to a number of reasons. It wasn't completely unexpected but in some ways was a bit of a relief. Definitely for the best, in either case.
On the upside, I've got a new agent now, (whoo hoo, Jessica Regel!) who I absolutely adore. I'm reworking some things based on our discussions and hopefully that will mean very good things later this year, but it's nice to feel like I have someone in my corner again.
As to the rest of it, I'm not real big on New Year's resolutions – there's a number of things I'd like to improve or fix, but I think most people come up with too much to try to do all at once and then burn out. I've looked at some of the habit-based apps, but even that feels like too much pressure. (The Habitica RPG stuff looks fun, but you know, I can't even log into an actual game to do dailies anymore – I really don't want to have my character die in a week simply because I can't manage to log in and check off what I've done.)
That said, I'd like to start blogging again on a more regular basis, so that's one of my goals for this year. Maybe one of those 365 photo things. I don't know. There's projects I want to start or finish, but to be honest, one of the main things I want to do is reduce stress – so for me, that actually means reading more books, more self-care, more time for hobbies that aren't in front of a screen.
And to that effect, I'm going offline for the rest of the day. ^_^