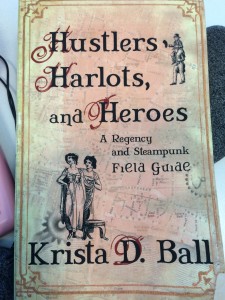 I had actually meant to post about this book several weeks ago when I was at Geek Girl Con, but better late than never.
Anyway – I wish I'd found this particular resource much earlier – it would have definitely shortened some of my research time on certain things in my latest manuscript, but it's still a really great overview of information if you're writing Regencies/Steampunk type stories.  (And it goes particularly well when paired with some historical slang or the dictionary of the vulgar tongue, might I add.)
I've actually got another of Krista Ball's , too – I mentioned it over on this post, (What King's Ate and Wizards Drank) and it's all about food prep, particularly in medieval times. Again – major eye opener if you're a stickler to for details – particularly in fantasy when it seems like everyone's eating tarts and pickled eels. And quite honestly, it's not always about proving that you're an expert in the subject at hand – readers don't like a lecture, even as tempting as it is – but enough reality sprinkled through a fantasy story solidifies things so that readers are more likely to "believe" in the fantastical parts.
Actually, one of the panels I attended at WFC last week was about writing animals and how that can affect how readers see a book. (Like not making the hero's horse gallop for hours and hours on end, etc.) I actually wish I'd known about that panel before because I'd have asked to be on it – I've owned several exotic pets, show jumped horses – plus interning at a wildlife hospital certainly gets you a LOT of hands on. I've been bitten by just about every small woodland creature in the northeast, not counting getting taloned by a red-tailed hawk, so I sorta feel like I would have had a fair amount to talk about.
You can get Hustlers, Harlots & Heroes at Amazon and other assorted bookstores, and read more about Krista on her website. 🙂