Though I normally reserve Lego building for after book projects, I gave myself a long pass last week. Healing  being what it is, I really just wanted something that would take my mind off my pain and discomfort.
So I turned to Lego – and more importantly the latest LotR Lego sets that were just released over the last several weeks.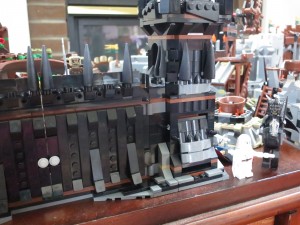 I did the Battle at the Black Gate a few weeks ago, which is rather delicious in it's creepy factor.
It even included a Mouth of Sauron minifig, which is pretty cool, considering you only saw that guy if you had the extended verison of the movies. Nice they included him.
Creepy mouth. 😉
I also did the Council of Elrond which has a really nice Rivendell palette. Lots of fun greens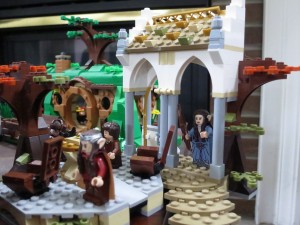 and golds, and finally an Arwen mini fig. I know LoTR/The Hobbit is basically a big sausage fest anyway, but thus far the only two female figs I've got is this Arwen and the new female elf (Tauriel) from the upcoming second part to the Hobbit. (I'd really like to see a Witch King set with Eowyn. It's iconic enough that I think it deserves one.)
Connor helped me with the Black Gate one and I recently bought him the Pirate Ship Ambush set for an early birthday which he hasn't done yet -maybe next weekend. In the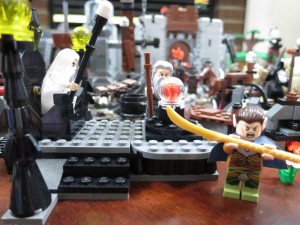 meantime, I let Lucy put this set together for some palantir action.
(Apparently there's an extra angry Elrond mini fig in there too. Go figure…)
And then there's Orthanc  – which is quite easily the biggest and best set I've had the pleasure of putting together. At 27 inches tall, the tower is sufficiently huge to give it a tremendous scope (particularly over the other sets.) Lots of fun details inside, including a light up palintir and we get a Wormtongue mini fig as well as an Ent.  (And of course, Gandalf, Sauroman, a couple of orcs and an Eagle.)
Forgive the crap photos and the state of my kitchen. Surgery has left me unable to bend down to pick things up, so things just have to wait a bit. >_<