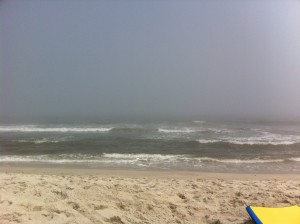 Obviously I've been off the grid for a little while. Partially due to the healing process (which has gotten substantially better in the last week or so) and partially to taking my usual week at the beach hiatus.
It was somewhat bittersweet this time – most of the cleanup from Hurricane Sandy has been done, but everywhere I went, there were definitely signs of damage.  Some stores remain boarded up, a few of the houses on the beach appeared to be standing on a last leg, some buildings have been reduced to empty lots.
(The House of the Rising Bun, alas, has not reopened – not sure it will come back, which would be a shame. So many other landmarks are also gone – so sad.)
Even the 4th of July fireworks were really subdued. I could read something poetic into that, but quite honestly so many business were affected by the storm that I suspect there just wasn't much of a budget to put into the pyrotechnics this year. Many of the businesses and even some of the streets had flood lines painted on telephone poles or inside the building themselves to show just how high the water level was. Given that it would have been chest high on me, it's rather amazing that things have come along as far as they have.
What's really odd is looking at a street I've visited every year for the last 30 years or so and seeing such a lot and trying to remember what the house that was there looked like…and not being able to.  I can't really chalk it up to having a bad memory so much as it's just one of those unimportant sorts of details you don't bother thinking about until you realize it's gone.