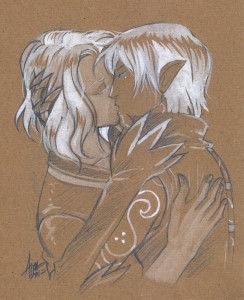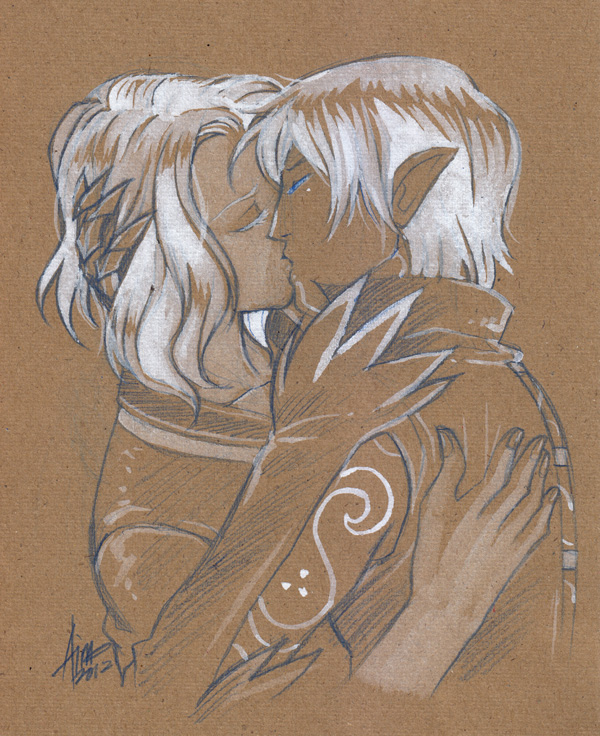 Sometimes it's really awesome having artist friends – especially when you're having a crappy day and they send you cute sketches of your DA2 character making out with smexy Fenris. (TY, Aimo! mwah!)
Yeah. Anyway – so the thing about trying to keep up the blog here ever day is that it feels sort of odd. I'd always tried to keep the more "quality" posts here and the more random ones over at Blogger, but here I am.
I spent a fair amount of time going through some of those imported posts this weekend, particularly on Saturday -right now I've only got the last year's worth actually set up.  It's a tad frustrating at times, because I realized I tended to get a lot more comments on the Blogger blog than here, but when I imported the posts here, I had to make a decision as to how I was going to keep them. (In several cases I had x-posted here as well, and I didn't really want duplicate posts.)
The clean-up of the duplicates meant I lost a lot of the comments. (I'll keep poking around – it could be there's a way to get them moved to other posts.) Incidentally, I only have the last year's worth of posts from Blogger for a number of reasons – 1) There's a lot of old history on the Blogger site, much of it from before I got published and some of it was a bit painful to read. I didn't want to bring that here, but I'm not deleting it from Blogger either – I'll keep that site up for a while, even if I have no plans to make additional posts there.
2)  Having posts starting in Jan 2011 makes the most amount of sense from a "professional" standpoint, I guess. That's when my first book came out, and it's not that there's nothing that happened to me before that, but…see reason number 1.
Otherwise, it's just been one of those days – neck deep in revisions for A Trace of Moonlight, sick, and hey, I managed to tear up the underside of my car this morning by driving over a cement median in a parking lot that I didn't see. (Probably because I was all hopped up on cold meds. Or because I suck at driving.) So now my car is in the shop until at least tomorrow and I'm feeling light-headed and crappy. Makes it hard to focus on words and plot structure, not to mention actual day-job work.
But hey, I have my bathroom back, so small favors. 😀 (Because, really – living with a toilet just sitting in your bedroom is a bit odd, even for me. But the DH finished the work this weekend, so  I can actually walk around my bed again without tripping over floor tiles.)