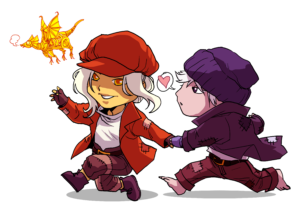 It's my birthday next week, but I figured I'd celebrate by doing a giveaway of my own here. Basically, two winners – your choice of a signed copy of either Magpie's Song or Magpie's Fall, whichever you like. Open worldwide.
(Prefer an ebook? I can do that too – just let me know!)
Contest will end next Wednesday (my bday, yo) and I'll do the drawing on Thursday. Prizes mailed out shortly after that.
Look how pretty!! –>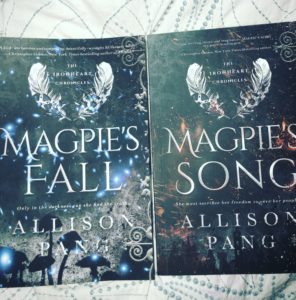 So how do you enter?
Easy way is in the comments below – I had a pretty crazy summer – so tell me something good that happened and share the love.  The rest of the options – the tweets and the FB page stuff are just extras to earn you extra chances. Also the newsletter – I don't send out a lot of stuff on it, but it's worth an extra chance or so.
A few other things – I had a Zazzle store a while back that used to sell Phin merchandise, and
it's still up there, but I've added a few new things – mostly mugs and whatnot, although I did add a lovely canvas piece by Aimo of Magpie. (And there's almost too much stuff to put art on in there, so if you like a design and you're just dying to have it on a different mug or something, just let me know and I'll throw that up there.)
Also, also  – I'm investigating what it would take to turn Magpie's Song and Magpie's Fall into audio books. To be perfectly frank, it is NOT cheap – probably about $2500 a book, so I'm not entirely sure it would be worth it, but I do feel like it's a market worth tapping into, assuming I can find the right narrator, but I'm weighing my options, such as they are.
So, yeah – take a chance and maybe win a signed book. 🙂