Ha, as the worst author ever, I actually managed to forget my own release date, but huzzah, the ebook for Magpie's Fall is officially out!
Print is coming – it's been uploaded and whatnot but I ran out of time to finalize it. I've ordered proofs but I won't get them before I leave for Japan and I'd rather wait until I get back to approve them as opposed to putting it on sale now in case there is something wrong with it and making readers angry.
But hey – to make up for it, here is the totally awesome cover!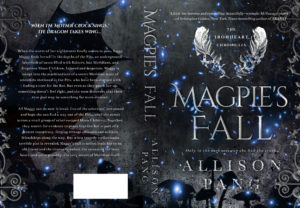 Review copies? Well, I'm not putting MF up on NetGalley this time around, so if you're a reviewer you're going to have to contact me directly. Reason being is 1) I just ran out of time and 2) to be frank, it was pirated from NetGalley and 1000s of copies were downloaded the day before it went on sale, and yeah. So, not going to do that this time. Sorry.
At any rate I will have print up as soon as I can. Thanks for your patience and I'll be back from Japan in a few weeks. (Albeit with some travel updates here as I can do them.)
*poofs*