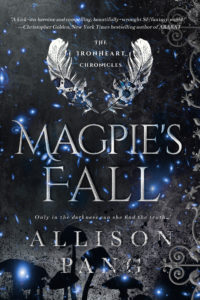 Hey guys – I have drawn the winners for the Magpie's Fall giveaway, thanks to RaffleCopter and its random generator. (In the past I used to have my hedgehog pick the winners, but alas, poor Tumbleweed has been gone for quite a while, so this will have to do. )
Two winners were drawn and emails were sent , so check your inboxes. And if you really want to be sure, I also notified the winners in the comments in the previous post, so feel free to check there as well – I really loved reading everyone's comments about their summers.
If you didn't win – no worries – I'll probably do another giveaway in a bit – also if you are in the Baltimore area in November, I will be at World Fantasy Con and I believe there is a book signing on Friday night, so I'll have my books there to sell (as well as several copies of Brush of Darkness which is now completely OOP, so if that's one you wanted, hit me up and we'll figure something out.) I've got one of those Square things so I can take credit cards and Apple Pay and all that jazz, assuming I've set it up right. >_<
Thanks again to everyone who entered!!
(Also also – Facebook's policies seem to be changing as far as what they will allow on personal pages when it comes to selling things or commercial stuff and I can't seem to get a straight answer on it, so there's a good change I'll be only updating my author page on Facebook with these blog posts because I don't want my account being removed, since that's what they're threatening to do…) So confusing. 🙁