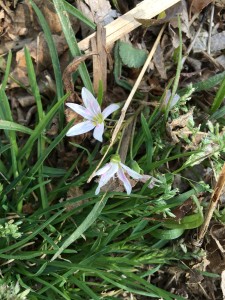 So last weekend the DH and I left the kids at grandma's for a few days and took off for the Shenandoah mountains. Specifically to do a little hiking and enjoying some quiet. This was partially just a needed break, but pragmatically, we hadn't been able to do much for our 15th wedding anniversary, so this seemed like a nice way to celebrate.
(And we had scheduled it before my current back issues, but figured we would attempt to make the best of it either way. I had two facet joint injections yesterday and I'm off to see the surgeon today, but at this point I have no idea what to do, so guess we'll see.)
Anyway, we started out over at Bluemont Vineyard for a wine tasting. I don't actually drink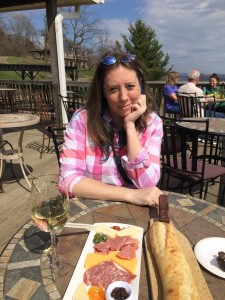 for medical reasons, so this mean Dan did the tasting, and I enjoyed the cheese plate. (I was off diet for the weekend as well, figured I would enjoy it. >_<)
After that, we drove above 50 miles on Skyline Drive, stopping off at various points for pictures and then parking to do what I thought would be an easy enough hike. Which it was quite beautiful – many waterfalls and that sort of thing. We weren't rushing but we did get a later start than we wanted and at about two miles into it, we realized the sun was going down and we had another two miles to go. And we left our headlamps in the car.
It wasn't a particularly easy hike for me – I had not realized that the incline would be fairly sharp in places, and I had no walking stick (getting one for NEXT time). There were a number of water crossings and I just wasn't prepared. (Also the only thing I'd eaten was a bit of that cheese about 4 hours earlier and not much breakfast, so my blood sugar was way down – also not particularly a good thing.)
But we did make it back up and out to one of the local fire roads and passed by one of the cemeteries as well. And then packed up our car and headed into Culpepper to grab a tasty and well-earned dinner, after which we wended our way over to our B&B, the Inn at Meander Plantation.
We had rented a historic two-story cottage, and it had a soaking tub, and that's where I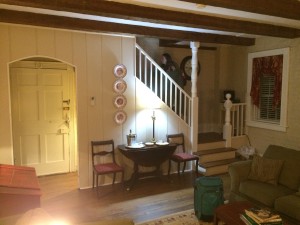 spent a good chunk of time. >_<
The rest of the weekend was filled with more wine tastings (and cheese plates), a visit to a fancy chocolate place, extremely good breakfasts and dinners, gentle walks around the grounds, a bit of shopping and just…sleeping.
And not doing anything.
I didn't even bring the laptop with me, which makes me wonder if I'm borderline insane, because I *always* bring the laptop with me. But it was good I didn't. I always have work to do, and there's always words to write, but I wanted to focus more on where I was and all that jazz, and that's hard to do sometimes when the computer eyes you from the desk. By taking it out of the equation completely, guilt at NOT writing or working is no longer an issue. Heck, I brought my Kindle and some sewing and I didn't even really touch either of those.
Allowing myself to just enjoy the moment did a lot more to refill the inspirational well than anything else I've done in a very long time.
Some additional pictures below (we had a ton, so this is just a smattering, but still nice to look at.)