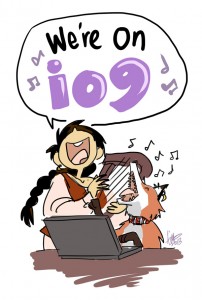 So the big news is that io9 reviewed Fox & Willow on Saturday – which is fabulous for us. As a self-published webcomic, getting any sort of publicity like this is sometimes very hard to come by.
(And a special shout-out to Jane Kindred for helping us to get on their radar -thank you so much.)
Of course, the offshoot is that I used up my 100k pageview /per month  limit on my stat tracker in about 24 hours. (That's a *lot* of hits for us – and it's been fun to watch the link be spread out to other sites like the Something Awful forums. Not quite viral or anything, but considering we haven't been doing a huge amount for publicity, it's pretty cool.)
Not sure what I'll do about the webstats – to upgrade my account will bump me into the $80 a month range, and if this is just a quick blip on the radar, I'm not sure it's worth that sort of investment. I'm falling back to Google Analytics in the meantime, but it bears watching.
In the meantime, Comixology has gone live with their comic book self-pubbing endeavor, so after Aimo and I finish up this first chapter, we will look at putting it out there as an actual issue available for digital purchase. (I wouldn't click on that link just now – the site has crashed due to a massive free comic promo they started today.) Of course, the for-purchase copy would include extras you can't find on the site and would have the convenience of being able to read it all at once – we're very excited about giving this a try.
Speaking of which – page 91 of Fox & Willow is up now, and you can watch it being drawn and completed down below (or check out our youtube page for more.)