It's actually been a little while since I've had time to make an update post, so here we go. First off, even though the cover to A Sliver of Shadow hasn't officially been released, I've got a little sneak peek here. (And I can start giving them away, so yay!)
I'm hoping to get a large copy up here soon, as well as a first chapter excerpt and related information. Only a few more months to go before the release date, so I'm getting very excited about it. All edits have been completed and turned in and I'm just plugging away at the third BoD book (still sans title, but that will come.)
Otherwise – there are several contests and giveaways going on in the blogosphere that I'm going to list here (most of which include a copy of A Brush of Darkness as part of the prize(s).
Jaye Wells is holding the Urban Fantasy Month Contest -> Go enter for a chance to win books by some fabulous UF authors. 😀
Haunted October is also giving away some great books as well.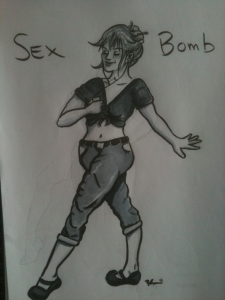 Also – I received this lovely piece of fan art of Abby a few weeks ago, so I thought I'd throw this up here. (by Wenchlatte)