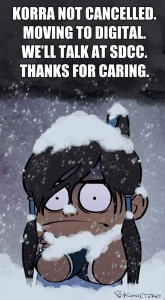 So it turns out that the latest season of Korra has suddenly been moved to digital only due to bad ratings. 
I'm assuming it's going to be a bit more complex than that, but hopefully we'll know more tomorrow.
But ratings aside, you wouldn't think Korra was in any trouble by living in my house. Lucy adores the newest incarnation of the Avatar series – in fact, we've watched every episode of the current season 2 or 3 times this week alone.
And really, why wouldn't she?
The main character is a young woman of color, set in a familiar, beloved world. Sure there are plenty of plot issues and flaws, but looking at it from the perspective of a seven year old girl, that doesn't particularly matter – what *does* matter is representation.
Korra is young, headstrong, brash, impulsive, and physically muscular. She has cool powers and an animal companion and a group of friends who make up Team Avatar. In short, for a little girl who could care less about princesses and who adores Raphael from TMNT, Korra is a pretty big deal.
But Nickelodeon has botched up a lot of their Korra series – even from the very beginning, it seemed like things were being set up for failure. Heck, my understanding is that the creators didn't even know if Korra would be renewed after the first season at all, which led to a very rushed plot wrap-up that felt forced and unearned and left a number of questions unanswered. (And which have not been revisited since.)
The second season led more smoothly into the third, thus far, but having the network move episodes around and adjusting the times the show airs doesn't do it any favors. Not to mention tie-ins – specifically, there aren't really any action figures for Korra – and that's a pretty big part of children's programming. (Not that I'm a huge fan of marketing EVERYTHING, but shows drive toys and toys drive shows. It's just how it is.)
But Mattel, who refused to even make any female character action figures for the original Avatar series, (No Toph? No Katara? Really?) hasn't exactly been beating down the door to make any characters at ALL for this one. (Something Lucy is fairly disappointed about, for obvious reasons.)
And of course, the answer is clear enough. Executives don't think girls play with action figures (or buy comics. Or play video games. Or Legos that aren't pink.) And they are willing to cancel shows that have girls watching them because they don't want to have to deal with that. This is irritating in the extreme, because it's nothing more than a self-fulfilling prophesy indicating that female-driven media cannot succeed  – but when you take into account the lopsidedness of it all (lack of marketing, shorter seasons leaving less time for character development arcs, no tie-ins – it doesn't become that big of a surprise.)
Oh, but hey, My Little Pony, which has always been marketed as a little girl's show, has a HUGE Brony following, so yes, boys can and do play with girl things – it's just that when they do, sometimes it feels more like appropriation than anything else. And that's a whole other story I don't feel like getting into right now.
But even so, when it comes to season 3 of Korra, things have been pretty messed up.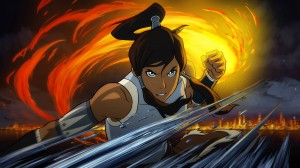 It wasn't even supposed to come out until this fall, but several episodes were apparently leaked and instead of continuing with the big marketing shindig at SDCC this week, the network just went ahead and started releasing the episodes, running 2 or 3 a week. Again, confusing and not consistent which makes it hard to schedule the family time to watch it. (We ended up DVRing it and watching it later, but still.)
At any rate, I hope they figure something out soon. Even with all its issues, I actually really do enjoy the show and I like having something to be able to share with Lucy.