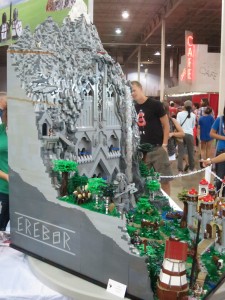 Okay – so here's the thing – I spent several hours on Saturday in my version of paradise – namely a Lego convention. (I'm sure some of you don't get it. That's okay. There was a film crew there doing a documentary, so I suppose it's possible I was caught on camera somewhere…)
Anyway – took a ton of pictures – so I'm uploading a bunch of them now and then I'll sift through the DH's camera and see if I can find any that aren't repeats.
Some of the pics are a little blurry and some just don't capture the sheer amount of detail in them, so you'll just have to take my word on how freaking incredible they were. (And OMG – some are nostalgic in the extreme. My brother *had* all those old school space ones and we used to play with them for hours.)
Keep an eye out for the Lego Serenity (I think the DH has better shots of that, so I'll get those up later) and also a crazy amazing Cyberpunk town that was just completely off the cuff.
Also? Lego Erebor!!!