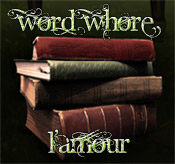 Yeah, I know I've been pretty bad the last few weeks with the blogging. Lots going on in real life – additional surgeries to plan,  diagnoses to deal with, AC units to install…it's been a rather lopsided time.
(I'm taking a mini vacation this weekend to go visit Danielle though – just two gals and their laptops and comfort food for a few days. Really looking forward to it, frankly. I'm 90k into this first draft – still slower than I'd like, but I'm plugging away at it. Hoping to some good writing hours in on the train tomorrow. I just want to finish it so I can start ripping it apart.)
As an aside note, the panel at Awesomecon DC went pretty well. (Shout out and thanks to Alma Katsu for giving me the heads up and inviting me along…and giving me a ride back to the metro afterwards.) There was a great turnout (much, much larger than I thought there would be.) As a starter con, I think it's got some great potential, and I'm looking forward to watching it grow. Also? It's just nice to have something close by that's easy to get to.
Today's Word Whore post deals with procrastination – of which I'm the master, apparently. I decided to devote my time to talking about Tumblr. I think I may have freaked some people out, but that's okay. I consider Tumblr to be more of a personal space in a lot of ways, since I'm not really looking to accomplish anything in particular on it. If I like it, I reblog it. I don't have to worry about putting it into context and it doesn't matter to me if people get it or not.
That's rather freeing in a lot of ways.
It's also really hard for me to pull myself away from it at times, but as a distraction I suppose it's harmless enough.
New Fox & Willow page is up today too, so go check that out. 🙂