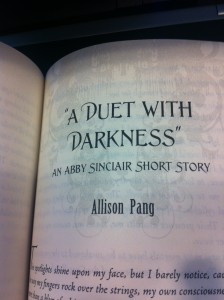 So I've been reading through one of the Carniepunk arcs and I have to mention just how excited I am to have been included in this particular anthology.
There's some fabulous stuff in here – I don't think anyone is going to be disappointed. 🙂
(On the flip side, I have to admit to feeling a tad intimidated that *my* story is in here. There's always that odd little ripple of wondering if it's really good enough? I suppose that might sound odd, but writer insecurity, I guess.)
Anyway, thought I'd talk a little bit about the story – there may be some spoilers ahead, so you're warned!
Even though it technically is set in Abby's world…it's really a Melanie story. I know some people have wondered about certain things over the last few books – how Abby and Mel's relationship was started, why Melanie and Brystion appear to have a bit of history together, where Nobu fits into it all…and of course, that magic violin.
So A Duet With Darkness does answer some of those questions – but keep in mind that this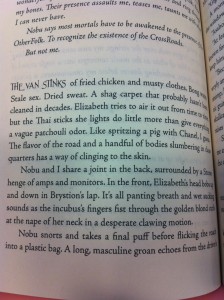 story happens well before A Brush of Darkness.
The Brystion you meet here isn't exactly the same incubus you come to know later on. (BoD readers may recall references to Brystion being blond and dating a girl named Elizabeth? *cough* Quick spoiler there in the picture – it's a tiny bit smutty, fair warning.)
Same with Melanie, actually. By the time BoD rolls around, Mel's had her world rocked – and her entire outlook on life ends up changing as a result.
As a side note, it was rather interesting to write her as I did. In my head, I see her more as she is is now, so to be able to dig into her past and figure out who she was before this event occurred was pretty cool. And a little harder than I expected.
I know this probably all sounds vague. I don't want to get into too many specifics and ruin the story. Incidentally, if you have read A Trace of Moonlight, I leave some fairly obvious clues as to what went down…so it's there if you read between the lines. I've just had this particular idea in my head for so long it's been great finally getting it down on paper.
Anyway, just a reminder that I'll be at AwesomeCon DC on Sunday (details here) and Carniepunk is available for pre-order, pretty much everywhere.