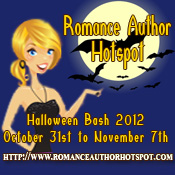 Late night post because I spent most of the day in various states of traveling – I probably won't be blogging too much the next few days. Cons just tend to keep me busy/exhausted/whatever so I tend to slack off.
I did want to mention that I'm participating in a Halloween blog-hop this week though. Go here to check out my interview and to enter for a chance to win any of my three books (winner's choice and open internationally).  Plus there's an overall prize of a $50 gift certificate for B & N and tons of other author/editor prizes. Go here to find out more and to find the other authors!
Otherwise, just a reminder about my reading on Friday at 5:30 if you're at WFC. (And don't forget NaNoWriMo starts tomorrow! Get those fingers cracking!)
Hope everyone had a great Halloween!