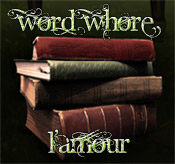 Okay – this should be my final week for needing a guest blogger to take over the reins for my posts over at Word Whores. This week it's been all about good and bad reading advice – and it's been great to see  how the more things change…the more things stay the same.
(As in – everyone seems to get so much of the same sorts of advice, but really, it's up to the *writer* to decide how much of it is useful. Like everything else, I suppose. Sort through the details, ignore what isn't helpful and take the rest as you can.
My guest poster is Tonia Laird – who is an up-and-coming writer over at Bioware (ha ha, my dream job, right? Game writing, FTW!)
In the meantime, I'm plugging away on my revisions, as usual. Technically they are due tomorrow, but my back pain went crazy the last few days and I ended up having to subsist on painkillers for a bit. Makes it a bit hard to focus, so it looks like I'll be working all through the weekend.
On heavy rotation on the iPod today for some reason: