Yesterday was Father's Day, obviously – most of which I spent over at the in-laws. Mr myn's dad is in the more advanced stages of Parkinson's, so it's a rather bittersweet sort of holiday. In fact, I'm feeling rather private about it, so I'm not going to say much more than we had dim sum and the kids all played in the pool and we enjoyed the day as best we could.
For my own little family celebration, we kept it pretty low key. Mr myn and I have gotten to the point where we don't spend a huge amount of money on these sorts of holidays. I decided to be a bit more tongue-in-cheek this time around and made a number of small purchases to contribute to his Zombie Apocalypse Kit. (Yes, he sort of has one. No, it's not for zombies. But I call it that anyway since it involves of lot of survivalist type stuff.) Part of said kit now includes the Flingshot Screaming Monkey. Because it is awesome. And sure to fill the zombies with fear when it comes rocketing past them from the top of my roof.
Saturday was a fair amount of fun in its own right – involving a trip to the spa for the usual wax and pedi routine. Although oddly enough, the purple polish I chose turned out to be iridescent (on the green side of things.) And it's already managed to chip, so I'm a little pissy about that. And then I met @KAKrantz for dinner at Silver Diner. There were milkshakes involved. The kind with peanut butter. And chunks of Heath Bar. Just sayin'
And btw, @KAKrantz is about the most awesome person on the face of the planet, with an utterly incredible sense of timing and deadpan humor. I giggled madly. We totally gossiped about @JeffeKennedy as well, simply because we could 😉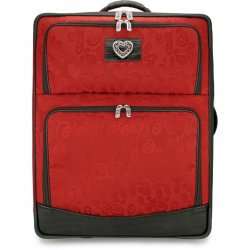 And then in an awesome bit of redneck boredom, we trotted around the mall and ogled handbags. I insisted we go into the Brighton store. (And Williams-Sonoma, but that's a different sort of post entirely). Although I am a bit of a Brighton purse whore, I wanted to look at the their luggage. With my back the way it is, I want to get a bigger upright suitcase that I can pull behind me. And I kind of like the Brighton one.
But upon closer look I realized that 1) It's not really worth $550. Hell, I can buy an entire luggage *set* for $200. It's not really big enough either.
2) It's not overly well made. That's cloth on the outside there. If I were just tossing suitcases in my car or whatever, it would probably be okay, but airline travel? Eh, not so much. I can totally see it getting shredded. Even the sales clerk said as much – suggesting that I look into purchasing the plastic cover for it. (Which ran another $125.) @KAKrantz just sort of looked at her and said, "You know, if my luggage actually requires a condom to survive baggage claim, I don't think I want it."
*cough*
Yeah, I agree. Anyone got a lead on girly girl suitcases that are totally cool with being barebacked? (And given the way the airlines seem to be bending us all over these days, I'm pretty comfortable with that analogy.)