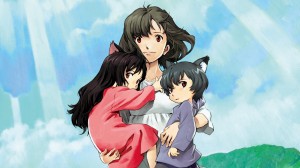 So I found this fan-made AMV on Tumblr the other day (and it turns out it won the Best Drama and Editor's Choice over at Anime Boston this year, so it's good stuff.)
Not even mentioning the fact that I clearly have a soft spot for the demon/spirit foxes and the ladies who love them, this AMV is really well done. And sad.
The anime it's created from is  Wolf Children Ame and Yuki – which has been licensed by Funimation but it hasn't been released in the U.S. yet. I did find a fan sub the other night and watched it in its entirety and I'll definitely be picking it up when it's released here. (Hopefully in Blu-Ray)
It's worth the watch. On the surface, it's about a girl who falls in love with a wolf man. When he dies, she's left trying to raise two children who aren't completely human. (There's one scene that might be problematic for some…or at least lead to some awkward questions, so fair warning.) But in the end, she does what she must to give her children the best life she can. (And as a mother myself, yeah…there are some fairly gut-wrenching moments, but there are some beautiful ones too.)
It's not really a children's story so much as it is a big metaphor of nature vs nurture and what it means to let go.