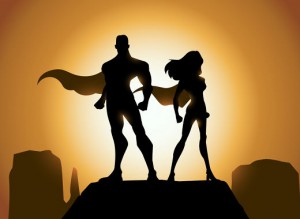 I put this out on Facebook yesterday, but for anyone who may have missed it, there's a free online class on Canvas Network dealing with Gender in Comic Books.  It's put out by Ball State University, and it just started yesterday, so you still have time to enroll and check it out.  It's a 6 week MOOC (Massive Open Online Course) – which means there's about 7k people in it, but there's a lot of good discussions going on.
Once a week there's a live chat with various comic book creators. (Including Gail Simone on week 4, so yowza!)
Also cool? The required reading is comics- which Comixology is offering a discount on, even if you *aren't* taking the class, so worth checking out anyway.
Seeing as gender portrayals in comics and video games is one of my current hot buttons, it only made sense to sign up. I know I won't be able to give it a full 3 to 4 hours a week, but just getting access to the content has been pretty eye-opening so far.  And quite honestly, most of this stuff could easily be applied to just about any current bit of pop-culture medium. As a writer, it can only be helpful.