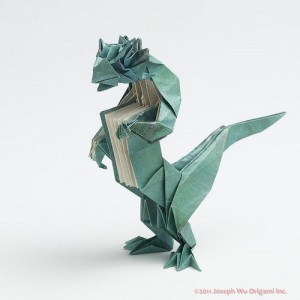 A bit of a late night post tonight. Things got a little nutty today at work and I couldn't sneak in a post during lunch like I usually do.
Happens sometimes – and technically I'm cutting into some of my writing time tonight to post. There isn't even any real reason for it – I just feel like rambling a bit – and also? The origami book dragon there is totally awesome. 😀
But honestly I've been feeling a bit overwhelmed the last few days (and massively crankypants). Just a lot going on in author land. It's not always about writing, you know?
I've got some cons coming up so now there's a bit of a scramble as to what new swag I want to order and plane tickets to get and people to contact about getting on panels or workshops or whatever. Do I want to place an ad in a program? Is it worth it? Who knows. (I'm sorta waiting to see if NYCC is a go or not before I commit to anything fancy for that. I suspect it's going to be a bit of a long shot to make it onto a panel, simply because I'm not particularly well known or a huge best seller, and placement there is super competitive. It would be pretty killer if it happens though, so here's to keeping my fingers crossed.)
But at the moment, there's  a lot of paperwork and trying to keep track of who I have to pay and what files I have to provide. And technically there's only about 4 months until A Trace of Moonlight is released, which means I've already got to start thinking about providing ARCs to reviewers, and additional book tour information to look at, giveaways and all the rest of it. And since I just finished all that up in March/April, it's a bit exhausting to think of having to do it all again so soon.
But going back to swag for a moment – I don't really think that bookmarks sell books, but I like to get them because they're easy. Everything else is trading cards, and stickers for envelopes, but I leave the rest alone. However…I am working on something silly, specifically Abby related – and probably some Fox & Willow swag too. The silly thing is costing me a fair amount to set up, so it may be a con-only special for a while, but we'll see how all that turns out with the printing costs.
Anyway, if I've seemed a little irritated on Twitter or Facebook or whatever, this is why. Just drowning a bit, but I'll manage.
I always do.