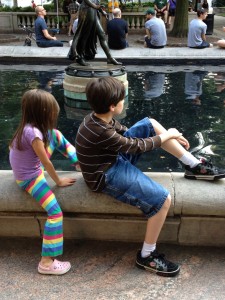 Okay – lots to talk about from this weekend!
First off – Comic Con – we only went for Saturday and Sunday, but that was plenty of fun, particularly with the kids. (They only last so long, however, so I highly recommend doing the VIP thing if you can swing it. Not having to wait in the cattle lines to get in was worth its weight in gold, particularly on Saturday morning.)
Anyway – we got in about 10 AM or so and most of the day was spent doing the Chris Hemsworth VIP thing – my passes allowed for a signing and a photo op, but with such a high profile celebrity, the lines form really early, and so you still have to wait.
So – first thing was getting Lucy's hammer signed – took us about an hour, but we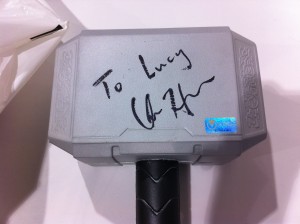 got through the Line okay. Lucy made a cute impression on everyone behind the table, but unfortunately got shy and hid behind me. Chris did try to say hi to her anyway…
After that we went and got into line for the photo op. This one went much faster, but unfortunately Lucy freaked out when we got up there. I think she was a little overwhelmed at the whole idea of actually meeting Thor and the picture thing was just too much. In fact, I turned around to adjust my backpack as we were called up and she bolted out of the photo booth tent and into the crowd. The con volunteers were nice enough to keep my place (they kept going with other people in the meantime) as I attempted to coax Lucy back into the tent. (She was in the middle of the con floor, her hands over her face and crying, poor thing.)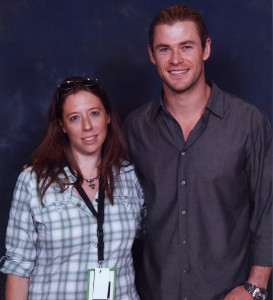 Obviously, I wasn't going to insist she do the photo…so I did it myself. 😉  (Though I did offer to hold her or be in the pic with her – she just wasn't going to do it.)
Chris was very nice about it, though – so many thanks to him for being so gracious.
After the photo op – we snagged a quick bite for the kids  (The DH and Connor had been wandering about on their own and we've got some lovely photos of Connor with Darth Vader and some other cosplayers…more of those at the bottom of the post…)
In the meantime, we did some celebrity spotting and I got a chance to talk to Sam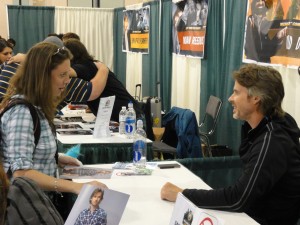 Trammell of True Blood and Amber Benson of Buffy – both were super nice, though I think Sam was a little less than happy that I brought up that video he did a while back on Funny or Die with him cuddling the kittens. He seemed a tad flustered by that, but that's okay. I got an autograph from him, but I think he was tired since he called me by someone else's name. Alas.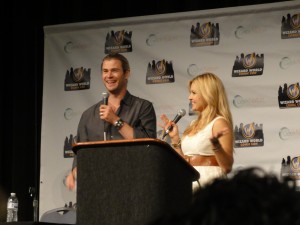 After that, we attended the Chris Hemsworth panel and the Five Captains panel (OMFG line – but wow, so worth it to see Shatner, Picard, Brooks, Bakula and Mulgrew all at once! They were so funny together!)
We finished up the day with dinner at Max Brenner's with my fellow authors, Jessica Corra and Simon Larter…and then a quick visit to the park to let the kids chase each other around the fountain.
Sunday we arrived late, but were still able to catch the Buffy 20th Anniversary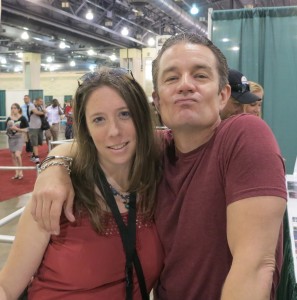 panel, which was also a lot of fun, as well me getting a quick photo op with James Marsters and more wandering around. I got a chance to meet Chrissie Zullo, who had an artist table – she's going to be my artist for the Womanthology Space issue and it was so great to actually talk with her a little bit. Always good to know who you're working with. 😀
Here's some additional photos from the con – some fun cosplays we ran into, etc. 🙂
All in all, it was a pretty fab experience! I would have liked to have attended a later panel on writing for comics, but by that point, the kids were tired and we had a long walk back to our car ahead of us, and a 3 hour drive…and we were done. So…next time. 😉
OOO
Fox & Willow news! Aside from today being the usual page update, I just wanted to announce that Aimo and Sad Sausage Dogs got a spread in the New Straits Times today!
Top Draw  (Aimo)