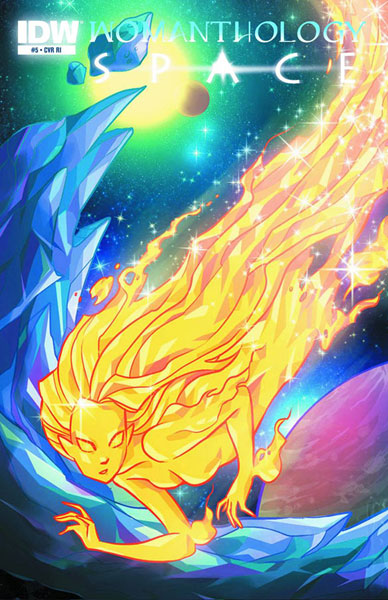 This is the cover for the 5th issue of Womanthology Space which should be out on Feb 13th.
I've got a 6 page comic story in there called Comet, which is a slight retelling of The Little Mermaid with steampunk robots. (and genderbent – so the "prince" is a girl and the robot is a boy. I actually found this pretty hard to do – I'm not a short story teller and I don't know if I was able to pull it off the way I wanted, but hopefully you guys will like it!  (It's got a very whimsical Wizard of Oz feel to it, thanks to the artistic talents of Chrissie Zullo.)
I don't have a pre-order link for it on Amazon yet, but I've seen it around at a couple of online shops (Things From Another World, Westfield Comics, etc.) I'm guessing it will be on IDW's site at some point as well, since they're the publishers, but I'll update any links I find when I can.
(I need to update my website a bit to add the Carniepunk stuff on there too, so probably some time this weekend. I've got all these interviews I never linked to either.  Gah.)