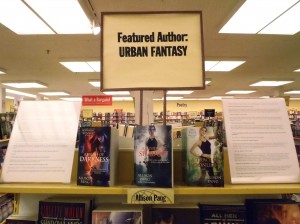 First off, I want to give a shout out to the World's Biggest Bookstore in Toronto (and specifically Jessica Strider) for setting me up with a very nice display! (And go here for the matching interview, which can also be read at the display.)
And again, sorry for not blogging as much recently. Sorta taking this month as a bit of a break, but I'll be back on the ball starting in January. By the way – I owe some contest winners their books – I should be getting all those out on Monday. Got a ton of stuff to mail out, just gotta put it all together.
I was over at Word Whores yesterday talking about how you know when a story is "done." (Ha ha – if only it  were that easy. Sometimes it really is a gut thing.)
Fox & Willow was updated yesterday as well – and I've found a couple of nice reviews kicking around the internet at Krypto Dies and also at Wave Your Geek Flag. It's really nice to see our humble little comic getting some notice.
Also, the Carniepunk cover will officially be revealed on Monday, so stay tuned for that! (Sorta bittersweet, eh – but I really can't wait to share this Melanie story with you guys!)