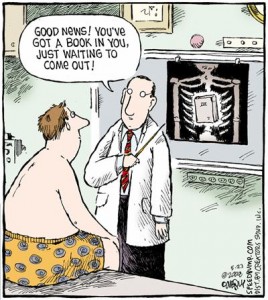 The fog thickens around me like a cloak made of soot and ancient rust. The coverage is deceptive, making it seem as though the lower bowels of the city are cleaner than its wont. But like a diseased whore, all it takes is a stiff breeze from the fetid bay to remove the illusion, the skirts lifted to reveal the rotting core beneath.
I'm pretty sure I've blogged about this before, but in either case, there's something rather interesting about those first ten thousand words in a novel.
It's just enough to see the beginnings of what the story is going to be about…but not so far along that things are locked into place.   Case in point, yes I've only got 10k written on this new book – but I've also backed off and restarted it several times, undoing several k worth of words each time.  Not sure why, but the beginnings just weren't sticking. (So odd, because I know *exactly* how it will end and what the very last line will be.)
Anchored potential, I guess you'd call it.  Enough that when I go back to read it after a while, it *feels* like a story – if I get to the end of that 10k and want more? I'm on the right track.
But now I've got a voice I'm okay with – parts of it aren't quite right, but it's good enough to keep plugging away with and see what shows up.  Characters are falling into place and if it's not quite the way I had initially envisioned it, it still seems to be working – and that give me something to look forward to after I turn in my copy edits for A Trace of Moonlight.