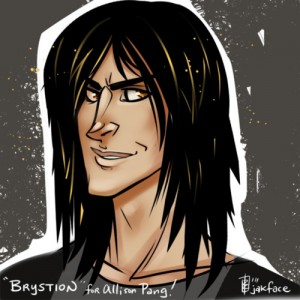 First up I was totally thrilled to receive this awesome piece of Brystion fan-art from Molly Nemecek (aka Jakface) this week!
(I've added it to the extras page as well and she and I are discussing a possible commission to turn A Day in the Life of Phin into a little comic. She's got a great sense of comedic style in her art and I think she'd be just perfect to do it.)
Also, I'm apparently up for five Bookie awards (nominated and voted on by readers). Winners will be announced at the Authors After Dark convention in New Orleans in 2012. I'm already scheduled to be there, so this just lends a bit of extra excitement to the mix.
I'm up for Debut Author of the Year, Demon Novel of the Year, Fantasy Novel of the Year, Reader Voted Star of Tomorrow and Best Heroine! If you're so inclined, you can vote for me/A Brush of Darkness over here –> https://www.surveymonkey.com/s/69XZZKW
Thanks!