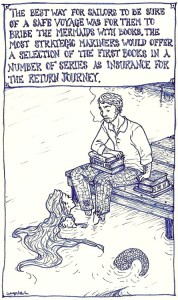 Things have been a bit more hectic around here than usual – aside from the usual settling back in after vacation last week, Lucy was sick over the weekend (followed by me, naturally). But it's been complicated by the fact that I've taken a new position at work.
It will take me a little while to figure out what I'm doing, but I'm rather excited about getting the chance to do something new. Today was a bit of a mess since I had to move cubes – having to cull several years of crap is both inspiring and depressing. I'm in the new cube now, but most of my stuff is still in boxes. Not sure I have the energy to put everything back up just yet.
The basics are in place, though – so it's just a question of getting used to working with a new team in a slightly different environment. It's funny, because I generally don't like change – I tend to avoid it as much as possible. I don't know if it's because I'm a creature of habit or that change just stresses me out. In either case, I feel pretty good about the move.
It was time.
That being said, there's always a bit of nervousness afoot, but I think it will be good. (Hey, I've got a window cube now, so things are looking up, right? I've missed having natural light for the last few years, so I plan on enjoying my new-found sunlight.) There is going to be a bit of a learning curve ahead, so it's possibly my blogging may slow down even further, but I'll try not to let it slide – even though some days I don't always feel like it, it does get me writing and sometimes it works well as a warm up.)
Anyway – copyedits for A Duet with Darkness are now done (huzzah!) and new Fox & Willow up today, so check that out.